A strong technical competence, a wide range of solutions, and expertise in precision component engineering are core of Kinetics. It develops furniture fittings as well as new product innovations from soft closing and push to open systems for applications in furniture, consumer appliances, bathroom equipment, automotive, and caravanning.
High-quality damping and push-to-open solutions
Since 1938, Kinetics is an innovator and premium supplier of high-quality furniture fitting systems, and manufactures highly functional, complex products with combined damping and push-to-open functions for the furniture industry, e.g. for installation in drawers and cabinets, as well as damping systems for sliding and hinged doors of many different sizes and weight classes. All of these solutions are key focal areas for our company today. Numerous patents and outstanding development and manufacturing knowledge secure our market position around the world.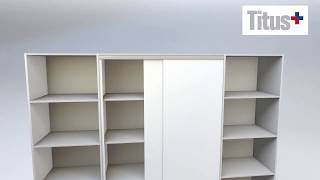 Industries and applications
Industries
• Furniture market
• Sliding doors/glass doors
• Kitchens
• White goods
• Bathroom/shower cabins
Applications
• Mostly damping and push to open mechanisms
• Push to open of drawers, doors, flaps, cupboards…
• Soft closing of wardrobe doors, sliding doors
• Cool and freeze soft closing in refrigerators